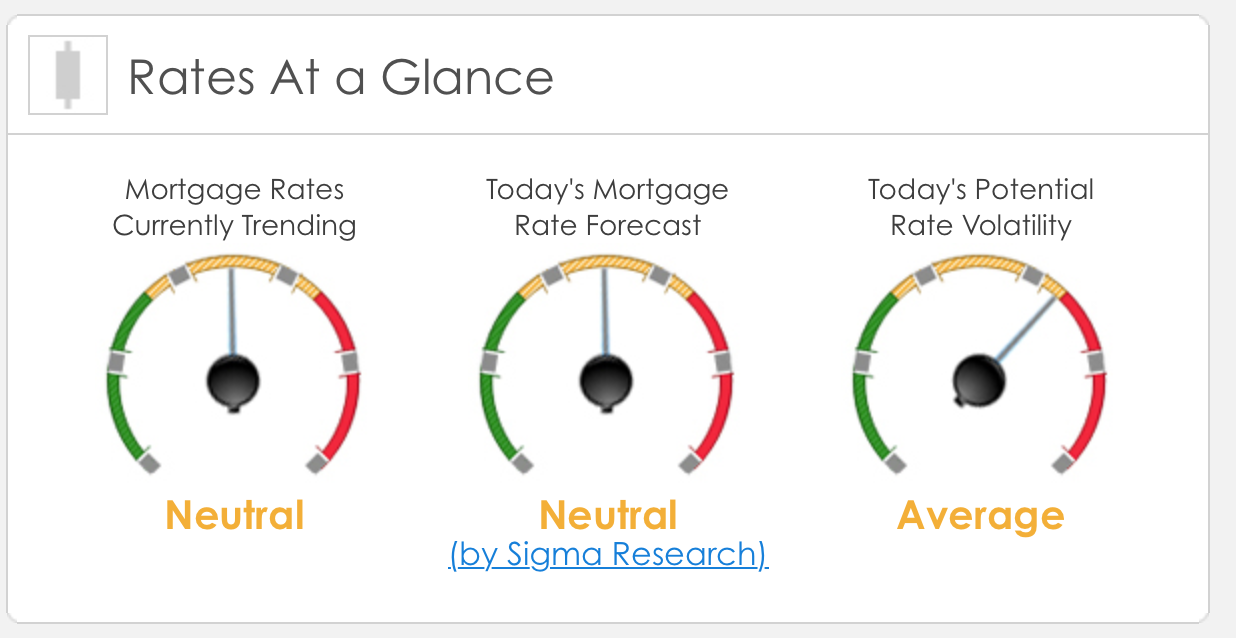 Today's Mortgage Rate Summary
How Rates Move:

Conventional and Government (FHA and VA) lenders set their rates based on the pricing of Mortgage-Backed Securities (MBS) which are traded in real time, all day in the bond market. This means rates or loan fees (mortgage pricing) moves throughout the day, being affected by a variety of economic or political events. When MBS pricing goes up, mortgage rates or pricing generally goes down. When they fall, mortgage pricing goes up. Tracking these securities real-time is critical. For more information about the rate market, contact me directly. I'm among few mortgage professionals who have access to live trading screens during market hours.

Rates Currently Trending: Neutral

Mortgage rates are trending sideways this morning. Last week the MBS market improved by +23 bps. This was enough to move rates slightly lower last week. We saw high rate volatility throughout the week.

Today's Rate Forecast: Neutral

Three Things: These are the three areas that have the greatest ability to impact mortgage rates this week. 1) Trade Wars, 2) The Fed and 3) Geopolitical.

1) Trade Wars: Trade negotiations between U.S. and Chinese officials, which take place today and tomorrow in Beijing in the hope of reaching a deal during a 90-day truce between President Trump and his Xi Jinping. But China is not the only trade story as the U.S. will be meeting with the EU Trade Commissioner on Wed and Japan's Trade Minister this week as well.

2) The Fed: We have a big schedule for talking Feds this week which include the Minutes from the last FOMC Meeting where they "dovishly" increased their Fed Fund rate and we hear from Fed Chair Jerome Powell.

01/07 Raphael Bostic
01/09 Charles Evans, Eric Rosengren, FOMC Minutes
01/10 Tom Barkin, James Bullard, Charles Evans, Neel Kashkari, Richard Clarida and Jerome Powell

3) Geopolitical: Front and center is Brexit as the UK Parliament resumes debating the Brexit Withdrawal Bill. Of course, our own partial government shutdown and negotiations on that will also be grabbing headlines.

Treasury Auctions this Week:

01/08 3 year note
01/09 10 year note
01/10 30 year bond.

Today's Potential Rate Volatility: Average

Mortgage rates continued to push lower last week on a good deal of volatility. This week we could see continued volatility. The direction of rates will depend, in large part, on the outcome of trade talks with China and the speeches from the Fed.

Bottom Line:

If you are looking for the risks and benefits of locking your interest rate in today, contact your mortgage professional to discuss it with them.