Today's Mortgage Rate Summary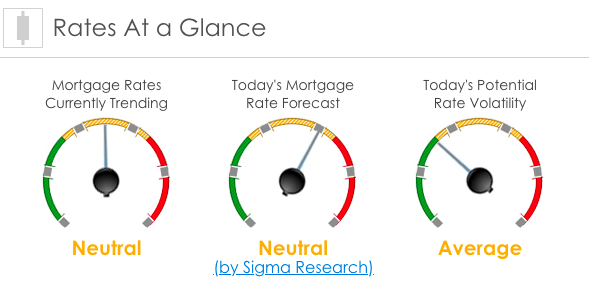 How Rates Move:
Conventional and Government (FHA and VA) lenders set their rates based on the pricing of Mortgage-Backed Securities (MBS) which are traded in real time, all day in the bond market. This means rates or loan fees (mortgage pricing) moves throughout the day, being affected by a variety of economic or political events. When MBS pricing goes up, mortgage rates or pricing generally goes down. When they fall, mortgage pricing goes up. Tracking these securities real-time is critical. For more information about the rate market, contact me directly. I'm among few mortgage professionals who have access to live trading screens during market hours.
Rates Currently Trending: Neutral
Mortgage rates are trending sideways this morning. Last week the MBS market improved by +1bps. This was not enough to move rates. There was very little mortgage rate volatility last week.
Today's Rate Forecast: Neutral
Three Things: These are the three areas that have the greatest ability to impact your backend pricing this week. 1) Trade 2) Geopolitical and 3) Domestic.
1) Trade: There hasn't been any significant changes or new policies from either China nor the U.S. Any actual agreement will calm the markets and therefore push rates higher, but most likely we will see more war of words this week and not any real policy.
2) Geopolitical: Turkey and their collapsing currency, financial market and economy will get plenty of headlines. As of now, they are not viewed as a larger cotangent, but that could change. The Brexit will also get some attention as they begin another round of exit negotiations in Brussels this week. The continued spat between the Saudis and Canada will be closely watched.
3) Domestic: We get some important reads this week that will help to shape up expectations and forecasts for the 3rd QTR GDP. Retail Sales on Wednesday will get the most market attention this week.
Today's Potential Rate Volatility: AverageTrade and geopolitical concern will get most of the attention from markets this week. There's not a lot of economic news that is likely to push rates out of the channel. Retail sales numbers on Wednesday, however, does have the opportunity to cause a bit of volatility.
Bottom Line:
If you are looking for the risks and benefits of locking your interest rate in today, contact your mortgage professional to discuss it with them.