Today's Mortgage Rate Summary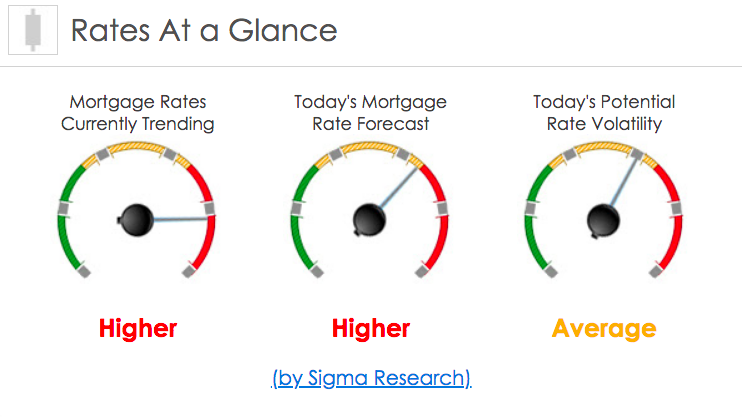 How Rates Move:
Conventional and Government (FHA and VA) lenders set their rates based on the pricing of Mortgage-Backed Securities (MBS) which are traded in real time, all day in the bond market. This means rates or loan fees (mortgage pricing) moves throughout the day, being affected by a variety of economic or political events. When MBS pricing goes up, mortgage rates or pricing generally goes down. When they fall, mortgage pricing goes up. Tracking these securities real-time is critical. For more information about the rate market, contact me directly. I'm among few mortgage professionals who have access to live trading screens during market hours.
Rates Currently Trending: Higher
Mortgage rates are moving slightly higher so far today. The MBS market unchanged yesterday. The rates experienced low volatility yesterday.
Today's Rate Forecast: Higher
Inflation: The June Producer Price Index (PPI) was much hotter than expected with the YOY Headline number coming in at 3.4% vs est of 3.2% and it is the highest level since 2011. The Core (ex-food and energy) was also a beat to the upside (2.8% vs est of 2.6%).
Housing: Weekly Mortgage Applications improved by 2.5%. The gains were due to purchase applications which were up 7.0%. Refinance Applications dropped -4.0%.
Wholesale Inventories: The May data was a little stronger than expected (0.6% vs est of 0.5%).
Geopolitical: President Trump announced that he may move on adding another $200B in tariffs at a 10% rate on China if they don't come to terms (he has previously stated that so it is not a shock to the system). Meanwhile, the NATO summit is underway and is getting all of the attention of the markets today.
Treasury Dump: We have our 10-year note auction today at 1:00 am ET.
Canada: Their Central Bank raised interest rates from 1.25% to 1.50%.
Today's Potential Rate Volatility: Average
We're getting a bit of rate movement higher today with hotter than expected inflation numbers. Markets are also very focused on the NATO meetings. Look for increased volatility over the next couple of days.
Bottom Line:
If you are looking for the risks and benefits of locking your interest rate in today or floating your loan rate, contact your mortgage professional to discuss it with them.