Today's Mortgage Rate Summary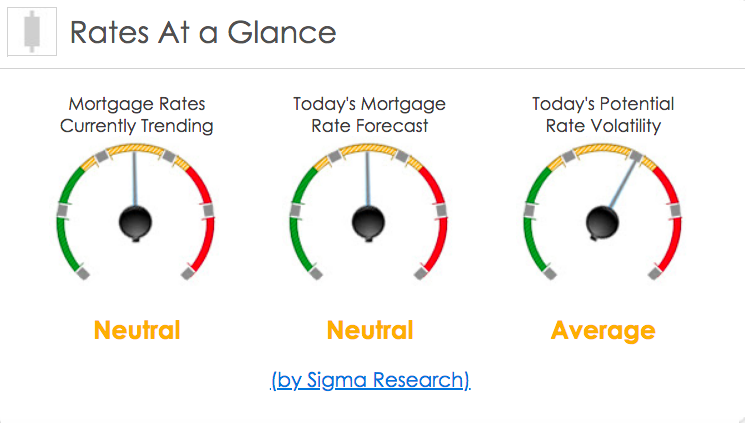 How Rates Move:
Conventional and Government (FHA and VA) lenders set their rates based on the pricing of Mortgage-Backed Securities (MBS) which are traded in real time, all day in the bond market. This means rates or loan fees (mortgage pricing) moves throughout the day, being affected by a variety of economic or political events. When MBS pricing goes up, mortgage rates or pricing generally goes down. When they fall, mortgage pricing goes up. Tracking these securities real-time is critical. For more information about the rate market, contact me directly. I'm among few mortgage professionals who have access to live trading screens during market hours.
Rates Currently Trending: Neutral
Mortgage rates are trending sideways this morning. Last week the MBS market improved by +3bps. This was not enough to move rates higher last week. There was low mortgage rate volatility last week.
Today's Rate Forecast: Neutral
Three Things: These are the three areas that have the greatest ability to impact your mortgage rates this week. 1) Trade Wars, 2)Oil and 3) Geopolitical.
1.) Trade Wars: Is last week's opening furrow just the beginning? That is what all markets (stocks, bonds, etc) are concerned about and is a significant uncertainty for traders. While the first round of tariffs by the U.S. and China won't kick in until July 6th, we will be looking for any movements in trade negotiations.
2.) Oil: A sharp rise in Oil prices were a major factor in a multitude of inflation readings over the past month which also pressured rates. But over the past couple of weeks, oil prices have dropped, and it has helped mortgage rates. This Friday we have a critical OPEC meeting, and their output targets will impact inflation expectations.
3.) Geopolitical: Merkel is on the chopping block in Germany which is very big for the markets. Spain and Italy still are of concern with their very recent leadership change and their huge amount of debt that has no way of being paid back.
Housing Data: While these reports do not generally impact your mortgage rates, we do get a ton of housing-related data this week that will give us a good understanding of the state of the housing market. This week we get the Home Builders' Sentiment Index, Housing Starts, Building Permits, Weekly Mortgage Applications, Existing Home Sales and the FHFA Home Price Index.
Today's Potential Rate Volatility: Average
Mortgage rates were very stable last week. This week, we have less market-moving economic data due for release. However, as of late, the markets are keeping a close eye on geopolitical events and tariff talks that can change markets at any time.
Bottom Line:
If you are looking for the risks and benefits of locking your interest rate in today, contact your mortgage professional to discuss it with them.